Last week was another busy week for us working on the latest and greatest features for FoxOMS. And now we've just rolled out another feature packed update full of some of your most requested features!
Limit the hours shown on the schedule
Are you running a 24/7 news studio? Chances are you're not and you probably don't have many bookings at 3am. One of our most requested features was to remove all of those outside of work hours from the timeline view on the schedule to decrease the amount of unusable white space and improve readability of bookings during the more usual hours of between 6AM and 10PM.
If this interests you, please check out this specific FoxOMS Help Article on how to configure your schedules settings.
Copy, Cut and Paste your bookings
Now you can quickly duplicate your bookings, using the new copy, cut and paste features. Simply use the standard CTRL + C (or ⌘+ C if your on a mac) to copy a selected booking, then use CTRL + V (or ⌘+ V) to paste the booking at your mouse pointer location.
Lots more Keyboard shortcuts to speed up your scheduling
We've also implemented a whole set of other controls to make scheduling faster.
For example you can now hold down ALT whilst dragging a booking to a new day, and it will automatically snap to the previous days start time on the new day. We've also changed the behaviour so that when a multi resource booking is dragged to a new resource on the timeline view, the other resources won't follow. To change back to the old behaviour, you can simply hold down the shift key and all resources will move as a group.
Checkout our new default timeline resource dragging behaviour in the animation below: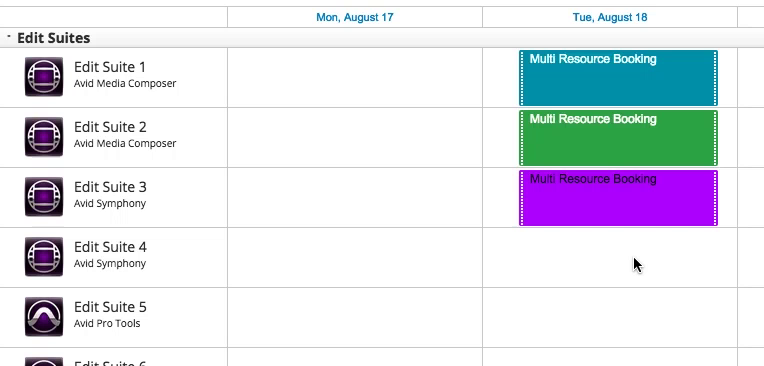 And the "old" dragging behaviour which you can bring back, by holding shift whilst dragging a resource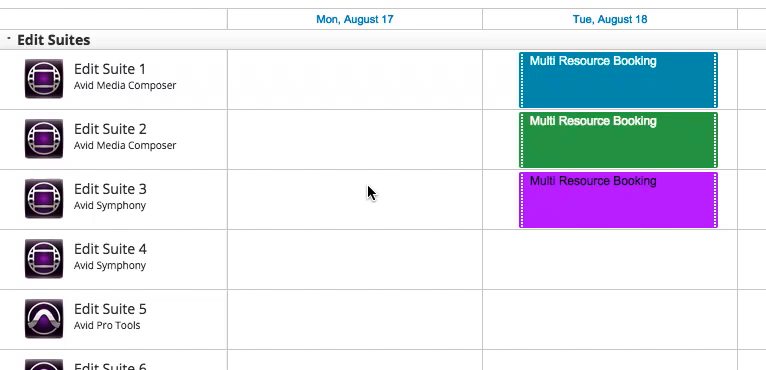 See the full list of shortcuts available on the schedule, please see this page in our help documentation or by clicking on the 'cog' menu in the Schedule -> Keyboard Shortcuts.